Errachidia Tour 6Days / 5Nights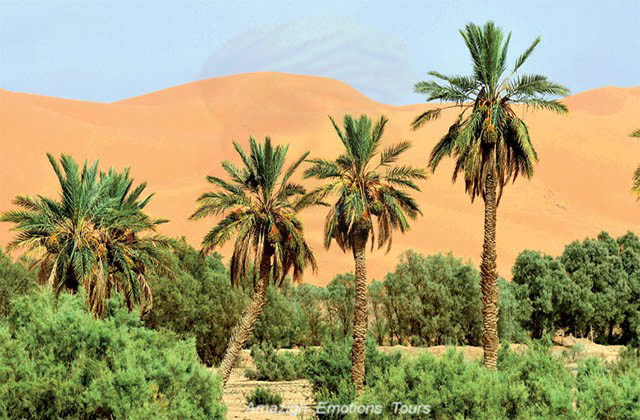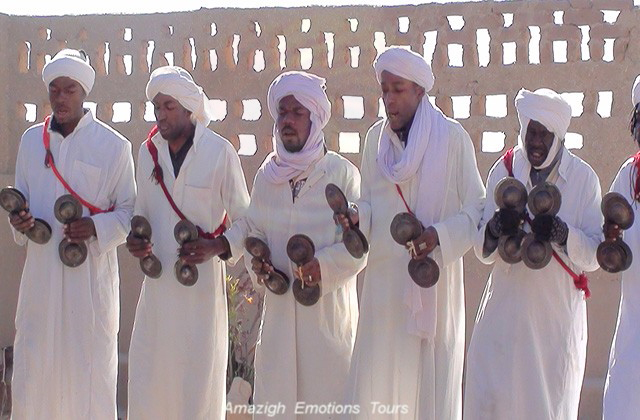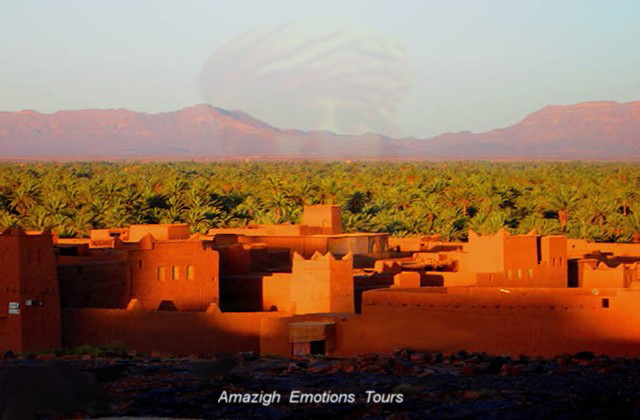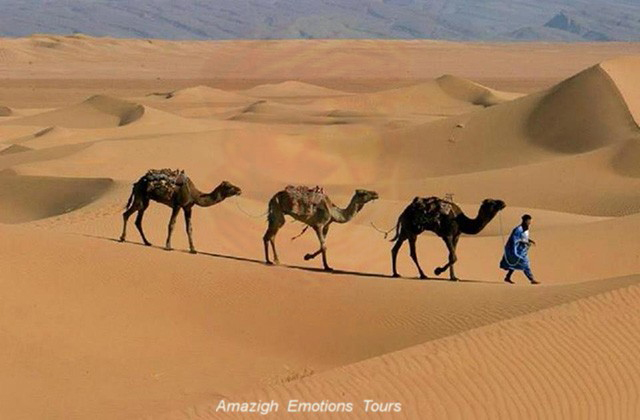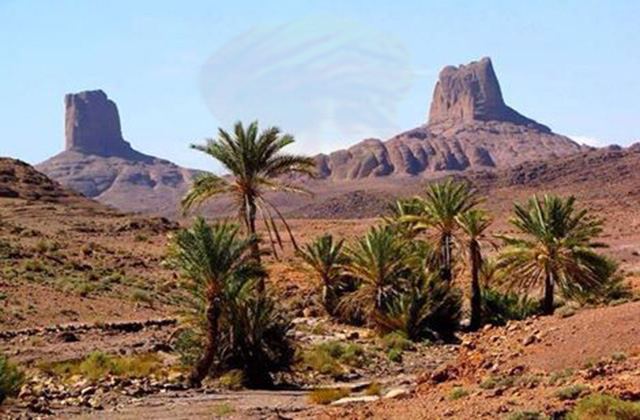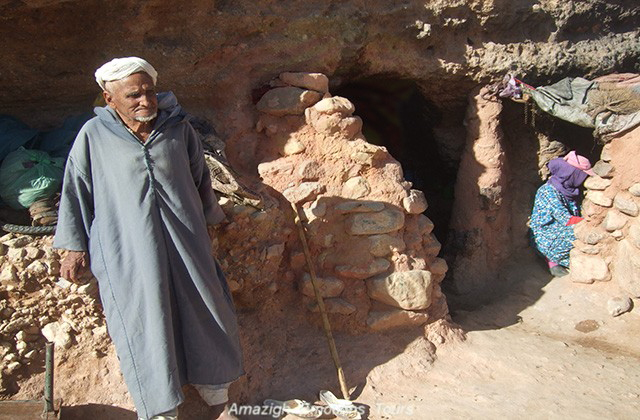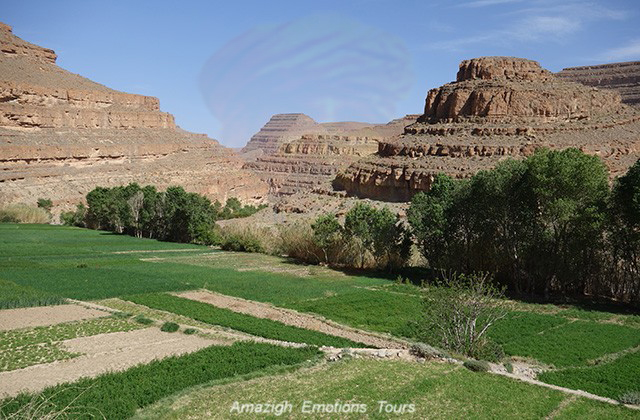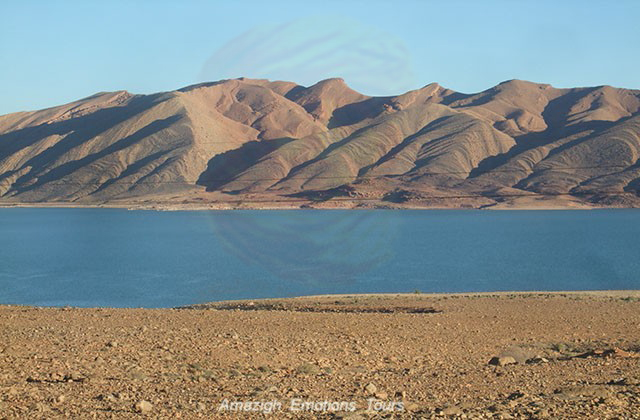 Day 1: Errachidia - Erfoud - Rissani - Merzouga (140 km): At 9 am, we'll start from Errachidia (Ksar Souk) to the dunes of Erg Chebbi through the blue source of Meski and the beautiful panoramic view of the Ziz Valley admiring his broad palm and pre-Saharan ksours. A visit is required at the marble workshop and fossils of Erfoud, the mausoleum of Moulay Ali Cherif with Ksar Abdel Halim Rissani. Lunch will be on the road (Arab Pizza). Arrival at the foot of the golden dunes and overnight in a private camp in nomad tents comes with camel riding, or in Auberge Kasbah.
Day 2: Merzouga - Khamlia - Taouz - Ouzina (120 km track + 30 km route): On the morning after the camp return, breakfast and shower. We will go further south to the desert Ouzina starting with a trip to explore the region of Erg Chebbi. We cross small villages and oases, temporary lakes, black desert, hamada, nomadic families, rivers and trails sometimes the Paris-Dakar ... Lunch will be in Khamlia, the Gnawa people of Sudan (Pizza Berber) . Afternoon, we visit the rock engravings at Taouz to finally arrive in the abandoned village of Ouzina which offers a magical mountains contrast with the dunes ... Night in a local Auberge Kasbah.
Day 3: Ouzina - Zagora - M'hamid - Erg Chegaga (170 km track + 150 km road): Early departure to the direction of Erg Chegaga via the villages of Ramlia, Tafraoute (lake Maider), Tizi n'Tafilalt and Zagora travesant the same desert plateau with acacia trees. Arrival in the famous Draa valley known with its old departures caravans "Timbuktu in 52 days" and lunch. Afternoon, visit the medieval library and the local pottery of Tamegroute. Continued road to Mhamid on the border with Algeria to begin crossing the driest desert and wilderness to reach the dunes of Erg Chegaga. Night in a bivouac Saharan arranged in the dunes. Here you will have the opportunity to witness a magical sunset!
Day 4: Erg Chegaga - Foum Zguid - Zagora - Nekoub (120 km track + 150 km road): After attending the sunrise and breakfast, we continue to go through this dry desert by small dunes and large dry lake Iriki (30 km), the largest lake in the Moroccan desert. Continue with the black desert of volcanic stones and fossilized rocks to Foum Zguid and lunch. After we arrive at Zagora by the road, then we follow the Draa Valley to reach the fortified village of Nekoub admiring the contrast of the mountains and its impressive palms grove. Overnight in a hostel/kasbah.
Day 5: Nekoub - Tizi n'Tzazerte - Dades Valley - Roses Valley (70 km track + 120 road): Early departure to the valley of roses by a beautiful mountain trail through the Anti Atlas via Tizi n'Tazazerte (2200m). We discover the landscapes of Saghro before arriving in the Dades Valley. You will see small villages and oasis hidden between the black mountains ... Lunch in Boumalne Dades, then we will visit the fascinating Dades Valley. Continuing for 20 km of track from the village of Ait Youl to reach the village of Boutaghrar passing on nomads living in caves. Arrival in the green valley of roses and a night in a Kasbah Inn.
Day 6: Roses Valley - Todra Gorges - Amellago - Errachidia (300 km): Our last step begins this enchanted valley of roses kalaat M'gouna Errachidia by the road of thousand kasbah. We visit the beautiful Todra Valley with its spectacular gorges. A small walking tour is recommended, then following the road of good landscapes of canyons and Berber villages as the village of Tamtatouchte, Ait Hani and Amellagou. Lunch will be at a local restaurant, where as an outdoor picnic. Afternoon, we'll get to Errachidia via the large oasis of Goulmima and end of our adventure.
ERRACHIDIA TOUR 6Days / 5Nights (Option II)
Day 1: Errachidia - Ziz Gorges - Todra Gorges - Dades Gorges (250 km) / Visit of the 3 gorges and Valleys (Ziz, Todra & Dades).
Day 2: Dades Gorges - Roses Valley - Ouarzazate (270 km) / Visit of roses Valley, kasbah Amridil, movies center, Ait Ben Haddou and Fint Oasis.
Day 3: Ouarzazate - Draa Valley - Zagora (230 km) / Visit of Draa Valley, Tamegroute pottery and Tinfou dunes.
Day 4: Zagora - Merzouga (240 km track / 300 km road) / Crossing a saharan desert landscapes, or via a small towns of Tazzarine, Alnif & Rissani.
Day 5: Merzouga - Desert Excursion - Camel Trek (120 km track) / Explore the desert life visiting a Gnaoua village "Khamlia" and a local nomads.
Day 6: Merzouga - Ziz Valley - Errachidia (130 km) / Visit of old kasbah in Rissani, marble and fossils in Erfoud, Ziz valley and bleu source of Meski.
NOTE: - Our itineraries are modifiable according to your desired programs with time, schedules of your arrivals and departures. - Our tours and excursions runs all year round and can depart/end at any Moroccan city of your preference. For more info, please contact us, the estimate is free!