Marrakech Tour 8Days / 7Nights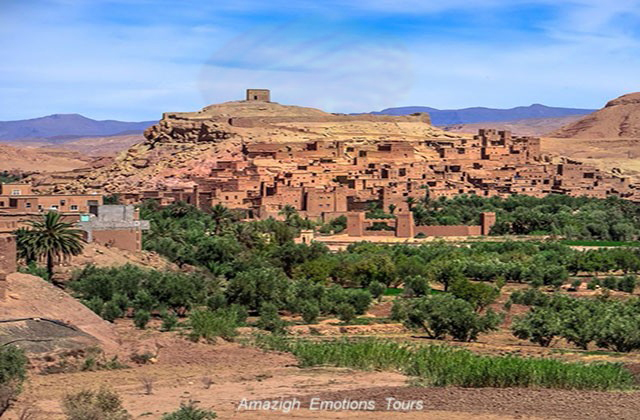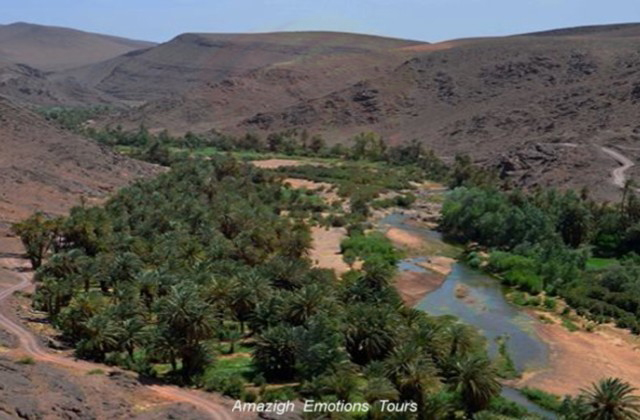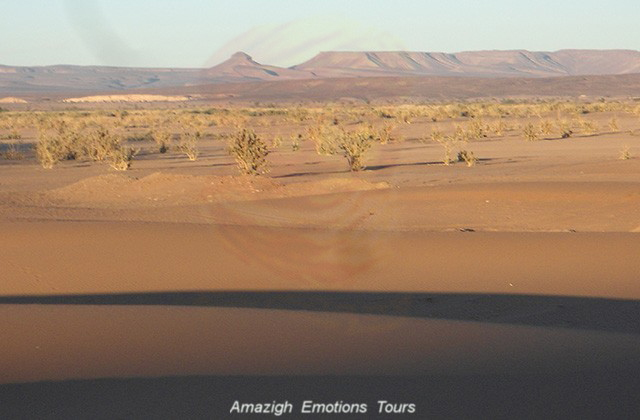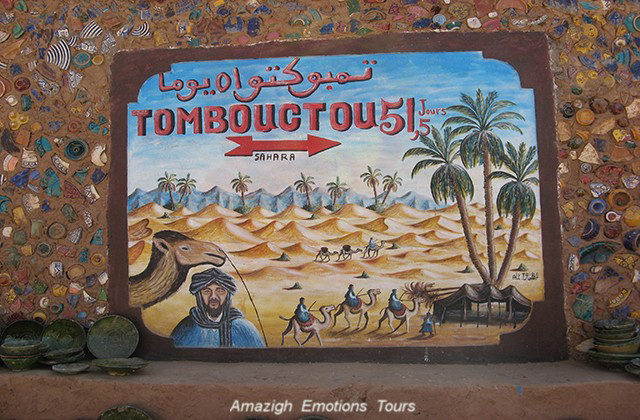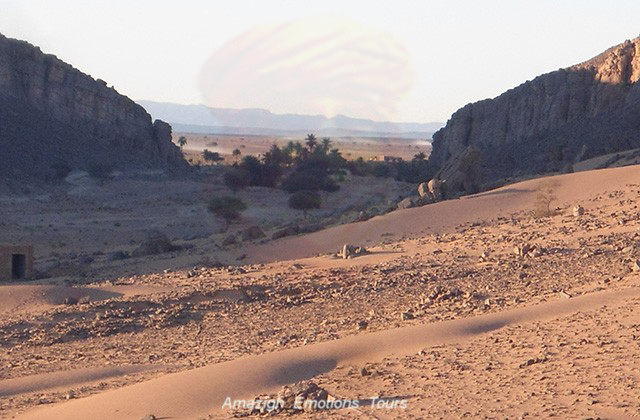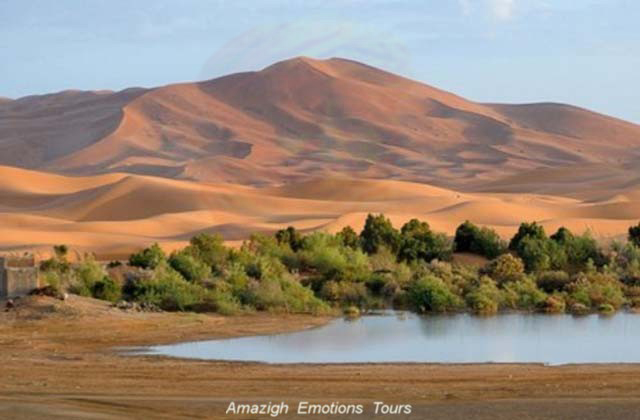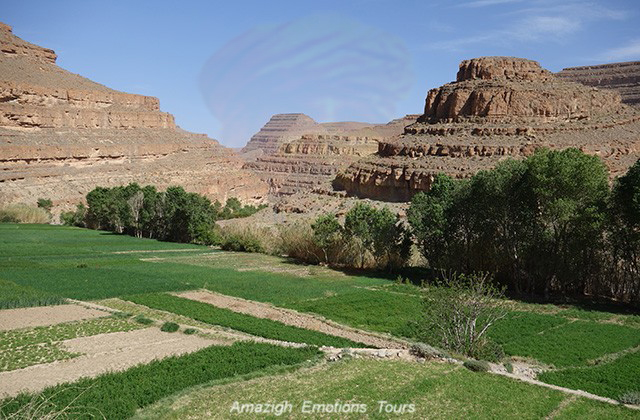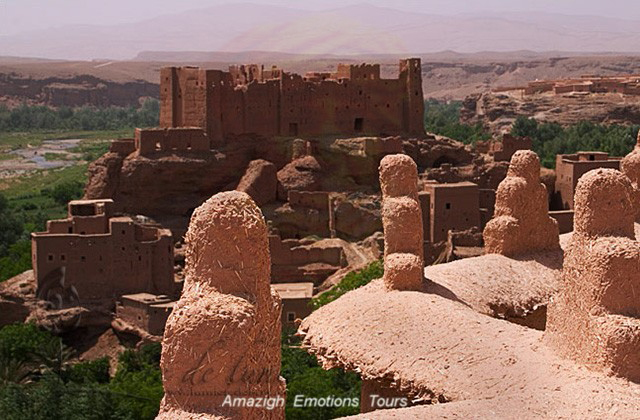 Day 1: Marrakech - Telouet - Ait Ben Haddou - Ouarzazate (230 km): In the morning, we prepare our departure from Marrakech to the south. We drive through the High Atlas via the Berber villages nestled in the mountains and the Tizi Tichka (2260m) to reach Telouet Kasbah in ruins. After the picturesque Ksar Ait Ben Haddou along the river Ounilla and lunch. It is declared by UNESCO as World Heritage and was an important step for caravans. Afternoon studios center and visit the Kasbah Taourirte (the old town of Ouarzazate) ... Night in a Riad Kasbah.

Day 2: Ouarzazate - Foum Zguid - Erg Chegaga (140 km road + 70 km track): After breakfast, we head to the desert of Erg Chegaga through small villages and palm oases in southern Tazenakht to reach the town of Foum Zguid. We begin our trail through the black desert with volcanic stones (basalt) and fossilized rocks where we will have lunch as a picnic in the shade of an abandoned palm oasis. Afternoon, we cross the dry lake Iriki (30 km), the largest lake in evidence the Moroccan desert to finally get the dunes of Chegaga. Here you will have the opportunity to enjoy the sunset and an extraordinary panoramic view of the big dune. Night under nomad tents in a private bivouac.

Day 3: Erg Chegaga - M'hamid - Zagora - M'harech (120 km track + 140 km road): After attending the sunrise and breakfast, we take the rest of this arid desert. We spend a little sacred oasis of palm trees and by the same Saharan landscapes to reach the small town of Mhamid. We will visit the medieval library of Tamegroute which contains numerous manuscripts (Koranic law, history, poetry ...) and production of local pottery, then arrived in Zagora and lunch. In the afternoon, we continue our way through Tizi n'Tafilalet, small villages and oasis in the black desert with acacia trees to get to the lake Maider (Tafraout). Night in a local desert kasbah.

Day 4: M'harech - Ouzina - Taouz - Merzouga (90 km track + 30 km road): At 9 am, we go to the dunes of Erg Chebbi through the same landscapes and small Saharan oasis villages. You will visit the rock carvings beside Taouz to reach Khamlia and lunch (pizza Berber). This village lost with the original Gnawa people who came as slaves from Sudan nomads ... Arriving in Merzouga accommodation window, you will have a welcome tea. After preparing to go into the desert on camels to watch the sunset and sunrise. Night under nomad tents in a private bivouac with music and shooting stars ...!
Day 5: Merzouga - Erg Chebbi Tour (120 km track + 60 km road): After the return of the desert, you will have breakfast and shower. We start the tour around the Erg Chebbi to discover the Saharan life. We go through the same desert plateaus and small oasis villages, tea will be served from local nomads and geological visit to the careers of fossils and marble near Erfoud. Lunch will be in Rissani (Arabic Pizza) This historic capital of Kasbahs (about 340 villages) named before "Sijilmassa" was an ancient capital in times of caravans in Morocco. It is also the birthplace of the Alawite dynasty in the XVI century. We'll visit the Mausoleum Mouly Ali Cherif and the old Kasbah Abdel Halim, then we go back to your hotel in Merzouga and night.

Day 6: Merzouga - Errachidia - Ziz Gorges - Amellagou (280 km): After breakfast and beautiful intense days in the desert with typical Moroccan people, we return to the High Atlas Mountains. We join the vast palm grove and fortified ksour of the Ziz Valley, which was an old road of sahara caravans to Fez. You take the picture beautifel panoramic views and visit its small gorge with the old kasbah ruins of Amezzouj. Continued road with impressive canyons to reach the city of Rich and break lunch. Then over small villages and oases, we reach Amellagou. Here you will have the opportunity to walk on foot in this beautiful nature. Night in a Kasbah Inn.

Day 7: Amellagou - Todra Gorges - Dades Gorges - Roses Valley (240 km): At 9 am, we went to the Valley of the Roses with somptueuxdes landscape of valleys and canyons of the High Atlas region. We spend a lot of villages along the road as Assoul, Ait Hani and Tamtatouchte to achieve the spectacular Todra preferred by mountaineers. Some cliffs (300m) are the most impressive and the highest in Morocco. After we continue our journey along the fascinating valley Todra in Tinghir. Lunch will be on the road, then visit the beautiful Dades Valley and Gorges. Finally, we reach the Valley of roses by a mountain trail (20 km). Night in a Auberge Kasbah.

Day 8: Roses Valley - Ouarzazate - Marrakech (300 km): Early departure to Marrakech (The bahja) rolling on the road of a thousand kasbah with beautiful views of the valley of roses and villages of Kalaat M'Gouna. We'll visit the famous Kasbah Amridhil located in the Skoura palm grove to reach Ouarzazate. Continuation through the Berber villages of Amerzgane, Igherm and the Tichka pass. After we have lunch in a Moroccan restaurant on the road to finally reach Marrakech in the late evening and end of our adventure.

MARRAKECH TOUR 8Days / 7Nights (Option II)
Day 1: Marrakech - Ouarzazate - Dades Gorges (320 km) / Visit of Telouet Kasbah, Ait Ben Haddou and Roses Valley.
Day 2: Dades Gorges - Todra Gorges - Ziz Gorges - Errachidia (270 km) / Visit of Todra and Ziz Gorges.
Day 3: Errachidia - Erfoud - Rissani - Merzouga (140 km) / Visit of Meski Bleu Source, Ziz valley, Marble and fossils in Erfoud, Old Ksabah in Rissani.
Day 5: Merzouga - Desert Excursion - Camel Trek (110 km track) / Explore the desert life visiting a Gnaoua village "Khamlia" and a local nomads.
Day 4: Merzouga - Taouz - Zagora (240 km track / 300 km route) / Crossing a desert landscapes, or via a small cities of Rissani, Alnif and Tazzarine.
Day 6: Zagora - M'hamid - Erg Chegaga (130 km) / Visit of Draa Oasis, Tamegroute Pottery, Tinfou Dune and Chegaga Desert.
Day 7: Erg Chegaga - Foum Zguid - Ouarzazate (120 km track + 70 km route) / Crossing the Largest Iriki Lake and Visit of Fint Oasis.
Day 8: Ouarzazate - Igherm - Marrakech (205 km) / Visit of the old Taourirte kasbah and Movies center in Ouarzazate.
NOTE: - Our itineraries are modifiable according to your desired programs with time, schedules of your arrivals and departures. - Our private tours and excursions runs all year round and can depart/end at any Moroccan city of your preference. For more info, please contact us, the estimate is free!